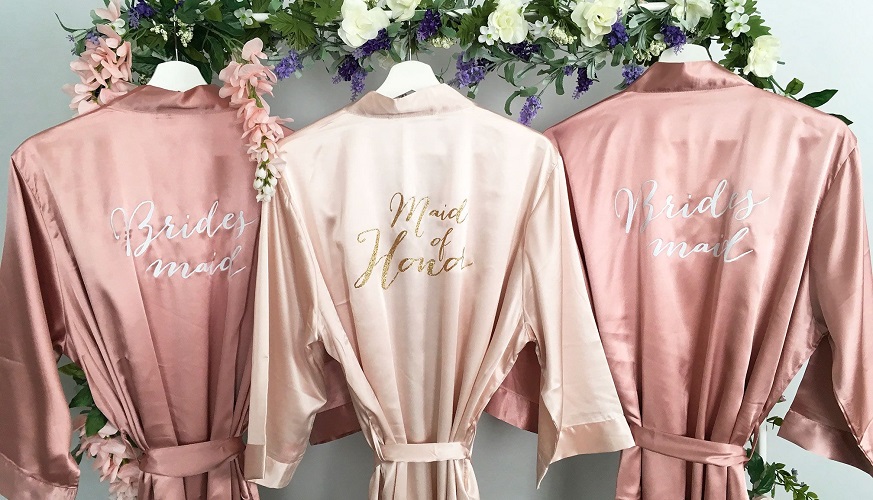 Benefits of Bridesmaid Robes
Posted On January 4, 2021
Brides and grooms will quickly realise that planning a wedding is expensive. Even the small costs can add up. But given that you rely on your bridal party to carry out a range of tasks to make your day special, it pays to reward them for their efforts. One way to do that is with the gift of bridesmaid robes. But are you not sure if this is the right gift? Read on to find out what other benefits lie in store.
They Are Affordable
You may be surprised to learn that even some of the best quality bridesmaid robes are quite affordable. They feature superior materials like cotton and satin and are available in several different colours. You can also make them even more affordable by purchasing large numbers of them. The more you buy, the lower the unit rate can often be.
They Are Multipurpose
When you're trying to come up with the perfect gift for your bridesmaids, you want it to be one that gets a lot of use. A bridesmaid robe can be that gift. Not only can they wear it during the lead-up events to the wedding, and hair and makeup, but in many other situations.
A robe is something you can wear at home, on vacation, or when you're getting dressed in the morning. When you buy a high-quality one, you also get to enjoy long-lasting materials so that the robe lasts for many years to come.
You Can Customise Them
A standard robe makes a lovely gift, but a customised one makes an even lovelier one. Many brides like to add dainty initials of their bridesmaids' names on the breast pocket. Others like to emblazon their full name on the back. However you do it, your bridesmaids will surely appreciate the thought you put into creating the perfect gift.
Huge Variety of Options
When you started planning your wedding, you probably put a lot of thought into choosing colours to match a specific theme. Believe it or not, you can do the same with your robes. Because there is a massive variety of style, material, and color options, you can often match them to your wedding's theme.
You Can Pair Them with Something Else
Do you feel like a customised bridesmaid robe is not quite enough? Given how versatile this gift type is, you can also pair it with other tokens of your appreciation with ease. Wine, chocolate, beauty products, health products, homemade soaps, and other similar products can all pair beautifully with your robe. Add them to a gift box, and you have the perfect gift for your valued bridal party.
With so much going on in the lead-up to the big day, it can be easy to forget about gifts for your bridal party. Fortunately, bridesmaids robes are a quick, easy, and affordable option. What's more, when you choose a high-quality supplier, they take care of all the hard work. You can then focus on planning your wedding while waiting for your new robes to turn up in the mail.